Author Reading and Q&A with Alyse Knorr
Author Reading and Q&A with Alyse Knorr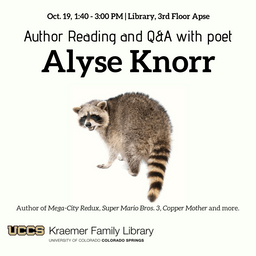 Posted: 
Join the Creative Writing Program, English Department, Compass Curriculum and the Kraemer Family Library for a reading and discussion with author Alyse Knorr.

Knorr's poetry covers everything from Nintendo to the human desire for contact and connection. Reviewers have described her work as "playful and fantastic" and "feminine, marvelous, and mega-tough."
When
Friday, October 19, 1:40 - 3:00 p.m.
Where
3rd Floor Library Apse