Author Reading and Q&A with Laura Pritchett
Author Reading and Q&A with Laura Pritchett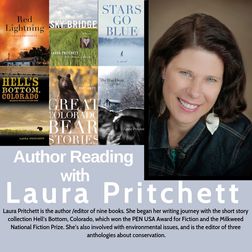 Posted: 
Join us on Thursday, March 7, from 3:00 p.m. to 4:00 p.m. in the Library 2nd Floor Apse for a reading and Q&A with author Laura Pritchett!
Pritchett is the author/editor of nine books. She began her writing journey with the short story collection Hell's Bottom, Colorado, which won the PEN USA Award for Fiction and the Milkweed National Fiction Prize. She is also involved with environmental issues, and is the editor of three anthologies about conservation. Her work has appeared in The New York Times, The Sun, Salon, High Country News, The Millions, Publisher's Weekly, The Normal School, and many other publications. You can find out more at her website www.laurapritchett.com.
When:

Thursday, March 7, 3:00 to 4:30 p.m.
Where:
Library 2nd Floor Apse