Edible Books 2: 5-7pm, October 26, 2019
Edible Books 2: 5-7pm, October 26, 2019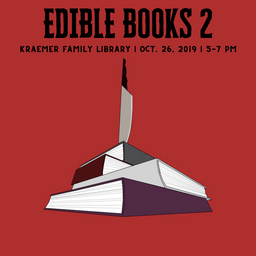 Posted: 
Edible Books 2: A Contest that Celebrates Books and Eating:
Make food inspired by your favorite books! We welcome: food that looks like a book, a character, or a setting. Food that people eat in a book. Food that makes a book pun. You get the idea. 
Open to the public and to all ages. Free food for all attendees and competitors!
Scary entries encouraged.  Prizes will include gift cards, cookbooks, and bragging rights. 
To register to enter (walk-ins entries welcome as well!) visit: 
https://surveyuccs.co1.qualtrics.com/jfe/form/SV_cAb5R9hmOdYpgEd
For edible book ideas, check out the galleries from previous years:
Have questions? Contact svandagr@uccs.edu
Sponsored by the Kraemer Family Library and Pikes Peak Library District.