Edible Books Contest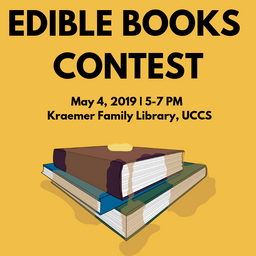 Posted: 
Do you like books? Or food? Or food shaped like books? If you answered yes to any of these questions, you'll enjoy the Edible Books Contest. This competition allows professional and home bakers and bookworms to create amazing edible creations and displays inspired by their favorite books. The contest is open to everyone (students, faculty, staff, and the Colorado Springs community). With categories for both children and adults, a professional competition for local restaurants and bakeries, prizes for literary merit and artistry, and snacks and samples from professional bakers, the Edible Books is a great chance to celebrate food and reading with the Kraemer Family Library, and the Pikes Peak Library District.
Enter to win culinary fame, or attend to eat delicious food. 
The Edible Books contest takes place on May 4, 2019, from 5:00 to 7:00 p.m.
Full rules and guidelines for home and professional bakers
Edible Books Contest 2019 - Rules
Entry form for home and professional bakers
Edible Books Contest 2019 - Entry Form
For questions and concerns, and to submit proof of Coverage of General Liability Insurance (for professional bakers only)  please contact Susan Vandagriff, svandagr@uccs.edu or 719-255-3027.