Feedback Needed for Compendex, Engineering Village, INSPEC, and PAIS Index
Feedback Needed for Compendex, Engineering Village, INSPEC, and PAIS Index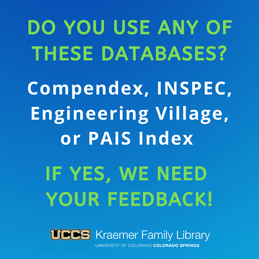 Posted: 
Due to declining use, we are considering cancellation of the following electronic resources:
We want to know what effect, if any, cancellation of any of these resources would have on your teaching, research, or learning. If you have feedback that would help us in this decision, please fill out this online form.
Your feedback is needed by Friday, May 15.