Join Us for the 2019 Colorado Open Scholars Summit for a Discussion of Tenure, Promotion, and Open Access
Join Us for the 2019 Colorado Open Scholars Summit for a Discussion of Tenure, Promotion, and Open Access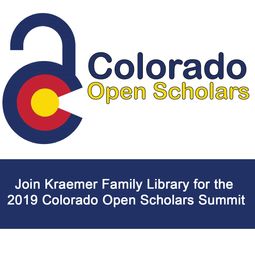 Posted: 02/05/2019
Join Kraemer Family Library for the 2019 Colorado Open Scholars Summit!
A virtual panel of scholars from Canada and the US will discuss the challenges in tenure and promotion within the current scholarly landscape and the role of open access within the tenure and promotion process. For more information about the speakers go to: https://www.coloradoopenscholars.org/2019-summit
When:
Friday, March 1, from 10:00 a.m. to 2:00 p.m.
Where:
Kraemer Family Library, EPC 304C
Food:
Brown-bag! Bring your lunch and join the conversation
Registration:
This event is free. RSVP at https://www.coloradoopenscholars.org/locations
Questions:
Contact Rhonda Glazier (rglazier@uccs.edu) or Lynn Gates (lgates@uccs.edu)