Join Us April 9th for Shale Play
Join Us April 9th for Shale Play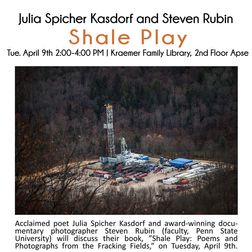 Posted: 
Join us on from 2:00 to 4:00 p.m. on Tuesday, April 9, for Shale Play with Julia Spicher Kasdorf and Steven Rubin!
Acclaimed poet Julia Spicher Kasdorf and award-winning documentary photographer Steve Rubin (faculty, Penn State University) will discuss their book, Shale Play: Poems and Photographs from the Fracking Fields.
Shale Play explores the small towns, farms, and forests of Appalachian Pennsylvania, gathering the stories of these places and the working people who inhabit them. Shale Play refers to a region exploited for its natural gas by means of hydraulic fracturing and horizontal drilling -- transient industrial processes that often occur far from the populations that benefit from them.
For more information, contact Carole Huber (chuber@uccs.edu) and Abbey Hepner (ahepner@uccs.edu).
When
Tuesday, April 9, 2:00 - 4:00 p.m.
Where
Library 2nd Floor Apse