Join Us for Banned Books Month at the Library
Join Us for Banned Books Month at the Library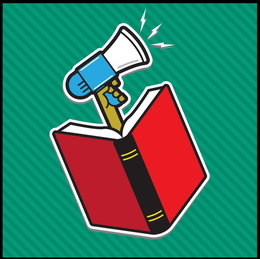 Posted: 08/27/2018
The American Library Association's Banned Books Week 2018 is September 23 - 29. It brings together the entire book community — librarians, booksellers, publishers, journalists, teachers, and readers of all types — in shared support of the freedom to seek and to express ideas, even those some consider unorthodox or unpopular.
In celebration of Banned Books Week, the Kraemer Family Library is planning a month's worth of activities. Please join us in celebrating your freedom to read!
Banned Books Panel
Thursday, September 6, 3:00 - 4:00 p.m. in Library 3rd Floor Apse

What happens when someone decides that a library book is too dangerous to read? How do libraries decide what stays and what goes?  


On September 6, a panel of librarians from local school, public, and college libraries will answer your questions about censorship, public opinion, and dangerous books.  

Hear stories about real patron complaints, real library policies, and the really difficult decisions librarians have to make to keep the public happy and the library free of censorship.  
 

Banned Books Selfies
Thursday, September 13, 11:00 - 1:00 p.m. in the El Pomar Plaza

Join us in the El Pomar Plaza (in front of the clock tower entrance to the library) and take a selfie with your favorite banned book. We'll be making buttons and passing out candy, too, and chatting about why the freedom to read is so important.
 
Banned Books Poster Session
Thursday, September 20, 2:00 - 4:00 p.m. in Library 3rd Floor Apse

Students from the "Burning Books" Gateway Program Seminar class will present posters they designed on the topic of banned books. Free food and refreshments for those who attend.
 
Banned Books Readout
Thursday, September 27, 12:00 - 1:00 p.m. in El Pomar Plaza

Members of the Kraemer Family Library, faculty, staff, and students will read selections from their favorite banned or challenged books.