Join Us March 13 and 14 for the Human Library
Join Us March 13 and 14 for the Human Library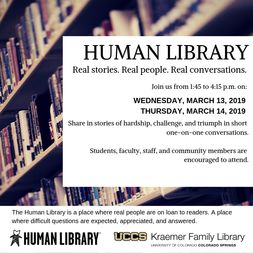 Posted: 
The Kraemer Family Library is excited to announce that we're hosting our own Human Library on March 13 and 14 from 1:45 to 4:15 p.m.
The Human Library is a place where real people are on loan to readers so that they may engage in conversations that challenge stereotypes through respectful dialogue. Join us and check out one of our "books" and learn about the person's unique story through one-on-one conversation.
To learn more about the Human Library project, visit http://humanlibrary.org
We hope to see you there!
When:

March 13 & 14, 1:45 to 4:15 p.m.
Where:

Library 2nd Floor Rotunda, near the clock tower entrance