Just Talk After: Curating the Political Divide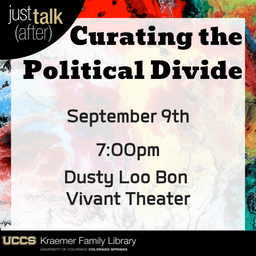 Join us at 7:00 p.m. on September 9 at the Dusty Loo Bon Vivant Theater for a special Just Talk (After), immediately following Prologue Town Hall: Curating the Political Divide.
Art is political. But have you ever wondered how artistic directors and curators navigate those risky waters? What is conservative art? What is progressive art? We have gathered local curators Aisha Ahmad-Post, Caitlin Lowans, Daisy McGowan, Kevin Landis, Scott RC Levy, and Ryan Bañagale to unpack the fascinating details that go into picking a season in a fraught political environment.
As always, Town Hall encourages discussion. We will end the evening with refreshments and break out sessions to continue the conversation.

The event is free but registration is required: Register Online.
In partnership with the Kraemer Library Just Talk Series and the Fine Arts Center at Colorado College. Co-presented with Theatreworks.