Library Book Scanner and Copiers Unavailable February 15-17
Library Book Scanner and Copiers Unavailable February 15-17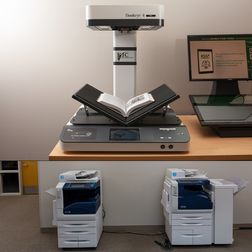 Posted: 
Due to a construction project, the Kraemer Family Library's book scanner and black-and-white and color copiers will be unavailable on Saturday, February 15 through Monday, February 17. These services will be restored the morning of Tuesday, February 18, but we will update this post if there are any unforeseen delays. 
UCCS students can still use the flatbad scanners located near the Apple iMac computers during this time. However, photocopying and color printing will be completely unavailable for students during the outage. Students needing color prints and copies are encouraged to visit the UCCS Copy Center.
Public users of the Library will not be able to print or photocopy during the downtime. Public users needing to print should speak to the staff at the Library's Research Assistance Desk.
Thank you for your patience during this service outage.