The Library Catalog will be Unavailable the Morning of May 30 for a System Upgrade
The Library Catalog will be Unavailable the Morning of May 30 for a System Upgrade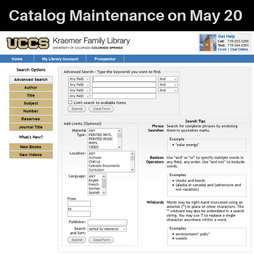 Posted: 
The Library Catalog available at http://library.uccs.edu will be offline from 9:00 a.m. to 2:00 p.m. on Monday, May 30, for a system upgrade.
During this time, please use OneSearch to search the library's print and electronic collection. Users will continue to be able to check out materials from the library's Circulation Desk during this time.
We appreciate your patience during this upgrade!