Library Crash Course: Fall 2018 Workshop Series
Library Crash Course: Fall 2018 Workshop Series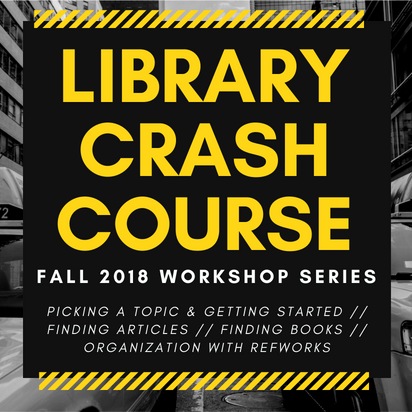 Posted: 
Whether you're new to UCCS or want to learn more about what the library has to offer, the Library Crash Course workshop series will teach you everything you need to know about using the library to improve your research skills. These sessions are designed to build on each other week by week - join us for as many as you can! 
In the first session, Picking a Topic & Getting Started, we'll explore the process of research, how to pick a topic, and developing a research strategy. 
In the second session, Finding Articles, we'll learn how to find, read, and use academic articles using library resources. 
In the third session, Finding Books, we'll learn to find books and other materials in the library and navigate the physical space. 
In the fourth session, Organization with RefWorks, we'll learn how to organize and manage research materials with the campus citation manager, RefWorks. 
Each session will be offered on multiple consecutive days in order to accommodate as many schedules as possible – learn more and register at our events calendar.
Registration is required - if fewer than 3 students register, the session will be cancelled 24 hours in advance. Registrants will be notified by email.