Library Event: Careers You Haven't Considered Fair on April 23
Library Event: Careers You Haven't Considered Fair on April 23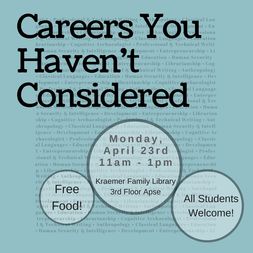 Posted: 04/10/2018
Join us on Monday, April 23, from 11:00am to 1:00pm for our Careers You Haven't Considered Fair!
This event will highlight a range of jobs in a variety of fields that you might never have considered before, including librarianship, technical writing, anthropology, human security and intelligence, and more. Representatives from each field will be on hand to discuss their profession, why they enjoy it, and the educational requirements for entering each profession.
Food and refreshments for all who attend. All undergraduate and graduate students welcome! Stay the entire time or drop by for a brief chat and enjoy a snack. 
When:
April 23, from 11:00am to 1:00pm
Where:
Library 3rd Floor Apse

Speak with Representatives from these Careers and Professional Fields:
Librarianship
Technical and Professional Writing
Anthropology
Classical Languages
Education
Entrepreneurship
Human Security and Intelligence
Academic Development
Cognitive Archaeology
Student Affairs in Higher Education
Data Science
And chat with representatives from:
Workforce Assessment Map (WAM)
Grad School
Career Center