Ourselves on the Page: Celebrating Diversity in Graphic Novels
Ourselves on the Page: Celebrating Diversity in Graphic Novels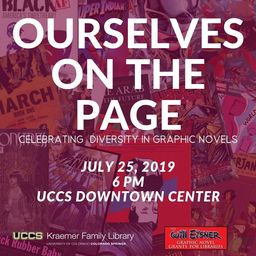 Posted: 
Join us at 6:00 p.m. on Thursday, July 25, at the UCCS Downtown Center for a screening of the documentary Drawn Together: Comics, Diversity, and Stereotypes, followed by a panel discussion featuring UCCS Professors Chris Bell and Suhaan Mehta, the owner of Muse Comics + Games Amanda Salmons, and Bemis School of Art Instructor and art therapist Kim Nguyen. Free food and refreshments for all who attend!
When: Thursday, July 25, from 6:00 p.m. to 8:30 p.m.
Where: UCCS Downtown Center
 
About the Panelists
Dr. Christopher Bell is an Associate Professor of Media Studies in the Department of Communication at the University of Colorado Colorado Springs. He specializes in the study of popular culture, focusing on the ways in which race, class and gender intersect in different forms of children's media. Dr. Bell is a TED speaker, a diversity and inclusiveness consultant for Pixar Animation Studios and Warner Media, a 2017 David Letterman Award winning media scholar, and the 2017 Denver Comic-Con Popular Culture Educator of the Year.
 
Suhaan Mehta was born and raised in Mumbai, and is an assistant professor in the English Department at the University of Colorado, Colorado Springs. Mehta works on postcolonial literatures and cultures with a particular focus on South Asia. Like most middle-class Indian kids, his first brush with comics was the Immortal Tales Series (Amar Chitra Katha.). The Immortal Tales are didactic stories drawn from Hindu mythology and Indian history. The first major Indian graphic novelist, Sarnath Banerjee, consciously challenged ACK's conservative form and ideology. Mehta has written a chapter on the first wave of Indian graphic novels in an edited collection titled From Zap to Blue Beetle (2010), and he would like to return to this topic in the near future. 
 
Kim Nguyen attained a BFA from LSU in 1990 and a Master of Science in Art Therapy at Mount Mary College in 1996. She has been working with adult mental health population since 1986 in various facilities and hospitals. She's an intuitive/expressive artist who uses her paintings to heal and raise awareness. Since 2001, Ms. Nguyen developed and managed Creative Expressions program at Aspen Pointe using the arts to help mental health clients, military personnel & family members to bring about healing from trauma. She has facilitated numerous workshops, classes and retreats in California, Colorado, New Hampshire, Massachusetts and Maine. She served on the Imagination Celebration board, contributed in the Colorado Springs Asian Committee, and curated for the Hillside Community Center ARTSpace Gallery.
 
Amanda Salmons started working in comics retail in 1994 and purchased her first store in her early 20s. Aside from building, running and selling comic book stores, Amanda worked as the executive director of a trade association for comic book stores for almost 10 years. During that time, she ran event programming for comic book retailers at conventions around the country and hosted annual meetings to bring together the nation's top retailers with the industry's publishers and distributors. Currently, she has one store which is located in Colorado Springs and spends all of her free time reading.

This event is made possible by the Will Eisner Graphic Novel Grants for Libraries.