Planet Watch: See Saturn and Mars at the Heller Center on Oct. 25
Planet Watch: See Saturn and Mars at the Heller Center on Oct. 25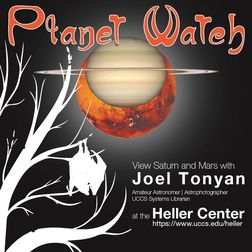 Posted: 
Are you interested in astronomy? Join us for Planet Watch from 6:00 - 8:00 p.m. on October 25 at the Heller Center for Arts & Humanities!
UCCS Librarian and amateur astronomer Joel Tonyan will give a presentation on astronomy and astrophotography, followed by viewings of Saturn and Mars through his 12-inch reflector telescope (weather permitting).
This event is free and open to the public. We hope to see you there!
When
Thursday, October 25, 6:00 - 8:00 p.m.
Where
Heller Center for Arts & Humanities
1250 N. Campus Heights Drive
Colorado Springs, CO 80918