Ramona Beltran: Everything is Medicine – Historical Trauma & Healing in Indigenous Communities
Ramona Beltran: Everything is Medicine – Historical Trauma & Healing in Indigenous Communities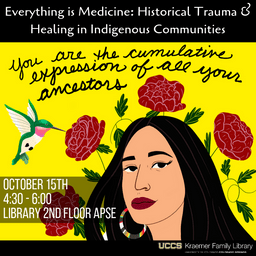 Posted: 
Tuesday October 15 | 4:30 - 6:00pm | Library 2nd Floor Apse
Ramona Beltran is an Associate Professor in the Graduate School of Social Work at the University of Denver. Her focus is on the intersections of historical trauma, embodiment, and environmental and social determinants of health as they affect overall health and wellness in Indigenous communities. Beltran's presentation is connected to the Native Voices: Native Peoples' Concepts of Health and Illness exhibit that will be displayed in the library from October 9th – November 20th. The exhibit explores the interconnectedness of wellness, illness and cultural life for Native Americans, Alaska Natives, and Native Hawaiians.
The U.S. National Library of Medicine (NLM) developed and produced Native Voices: Native People's Concepts of Health and Illness. The American Library Association (ALA) Public Programs Office, in partnership with NLM, tours the exhibition to America's libraries.