A Section of Carole Schoffstall's Collection: A World Health
A Section of Carole Schoffstall's Collection: A World Health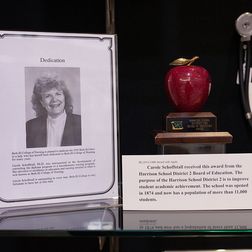 Posted: 
This exhibit features items from Carole Schoffstall's personal collection representing aspects of cross cultural healing.  Themes include birth, death, and wellness.
Carole Schoffstall was a Beth-El faculty  member for 30 years and served as dean of nursing and health sciences for 16 years until her 2008 retirement.  She was born March 14, 1939 and passed away in July of 2014  Her interest in holistic healing – the inclusion of spiritual and cultural beliefs and practices to promote the health of the patient – led her to collect objects that represented those ideas and practices.
This exhibit was created by the class MSGP 4060: Exhibit Design and Development in Fall 2018.