Strategy Strikes Back: How Star Wars Explains Modern Military Conflict – Matt Cavanaugh
Strategy Strikes Back: How Star Wars Explains Modern Military Conflict – Matt Cavanaugh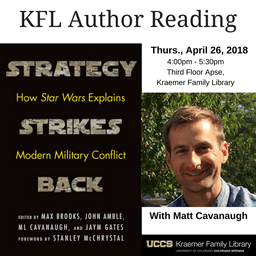 Posted: 
Join us for an author reading and discussion with Matt Cavanaugh about his book Strategy Strikes Back: How Star Wars Explains Modern Military Conflict.

ML Cavanaugh is a nonresident fellow at the Modern War Institute and a U.S. Army strategist with global experience and assignments ranging from the Pentagon to Korea and Iraq to Army Space and Missile Defense Command. Strategy Strikes Back brings together over thirty of today's top military and strategic experts, including generals, policy advisers, seasoned diplomats, counterinsurgency strategists, science fiction writers, war journalists, and ground-level military officers, to explain the strategy and the art of war by way of the Star Wars films.
When: Thursday, April 26, 2018, 4:00 - 5:30 p.m.
Where: 3rd Floor Kraemer Family Library