TaleSpin Storytelling Competition
TaleSpin Storytelling Competition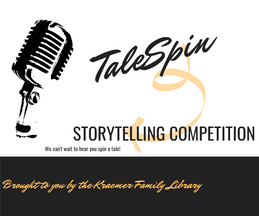 Posted: 
UCCS Presents and The Kraemer Family Library are excited to announce the 6th annual TaleSpin Storytelling Contest. Come and share your short real-life story at the Chapman Recital hall on November 13th at 5:30 PM.
Did your uncle's pizza recipe change the world? Did your grandmother have a ghostly experience? Has a teacher ever imparted you a life lesson – intentional or not? Join us for TaleSpin – a competition where you share your real-life stories in front of a live audience. The top 3 storytellers will receive a cash prize and the opportunity to tell their story on local radio show The Story Project.  Stories must be under eight minutes in length.
Feel like you might want to brush up on your storytelling skills. Join us October 24th from 5:00-7:00 PM at The Heller Center for the Arts for two back to back storytelling workshops. KRCC's Abigail Beckman and The Story Project's Patrick McConnell will be on hand to help you sharpen up your storytelling skills. Abigail Beckman will lead a workshop from 5:00-6:00 PM, followed by Patrick McConnel from 6:00-7:00PM at the Heller Center for the Arts.
Register for the TaleSpin Workshops at: https://tinyurl.com/TaleSpinWorkshop19
We can't wait to hear you spin a tale!