We're Looking for a Few Unique Books for the Human Library!
We're Looking for a Few Unique Books for the Human Library!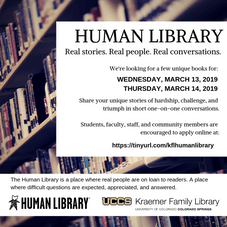 Posted: 
The Kraemer Family Library is excited to announce that we're hosting our own Human Library on March 13 and 14 from 1:45 to 4:15 p.m.
The Human Library is a place where real people are on loan to readers so that they may engage in conversations that challenge stereotypes through respectful dialogue. We're looking for individuals to serve as books in the Human Library. To learn more about the Human Library project, visit http://humanlibrary.org
Do you or someone you know have a story that will help others better understand the humanity behind the labels and stereotypes we hold? If so, we encourage you to consider joining us in our efforts to build a positive environment for challenging prejudices through one on one dialogue. Fill out the application linked below, and we will contact you about the possibility of being a story in our collection.
Books need to be available for a short training prior to the event and one or both event dates (March 13 and 14).
To apply to be a book in the Human Library, complete the online application form.