Exploring Setting and Narrative in Hemingway's "Wine of Wyoming"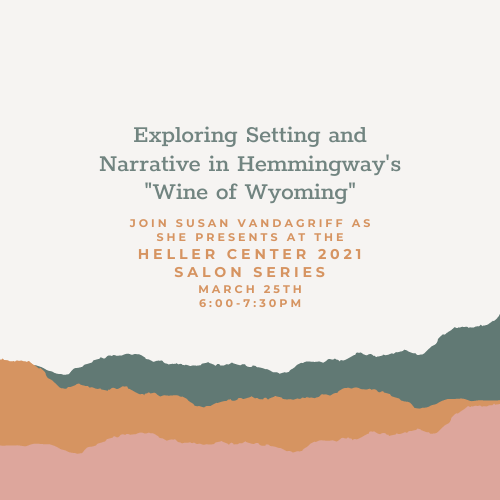 Posted  
Susan Vandagriff Susan Vandagriff is an assistant professor and the scholarly communications librarian for the Kraemer Family Library at University of Colorado Colorado Springs. Her research has appeared in the Journal of Librarianship and Scholarly Communication and The Hemingway Review. Reading Hemingway's Winner Take Nothing will be her first book.
As a librarian, my research interests are faculty and student publication habits, predatory publishing, and scholarly communications outreach and assessment. Outside of work, my research focuses on English and American literature.
What is a Salon?
Dating back to the literary and philosophical movements of seventeenth- and eighteenth-century France, a salon is "a fashionable assemblage of notables (such as literary figures, artists, or statesmen) held by custom at the home of a prominent person."
At the Heller Center, junior faculty present their research to the campus and wider Colorado Springs community. The audience may choose – or not - to read a pre-posted selection of the professor's writing before the event. After a brief lecture, the floor opens for questions and conversation – all with wine and cheese.