Just Talk is the Kraemer Family Library's programming series that is designed to promote open and honest dialogue about equity, diversity, and inclusion on the UCCS campus and beyond.
Upcoming Events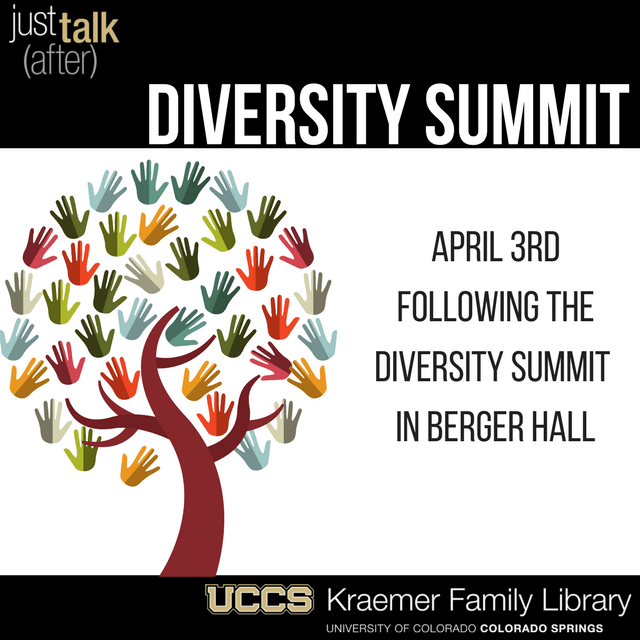 Just Talk After: Diversity Summit
We encourage all attendees to join us after the summit to continue discussion on topics covered and how they relate to UCCS. If you were not able to attend the summit or were not able to attend every session, you will have the opportunity to hear about what was covered and give your own input to the topic of Academic Freedom, Free Speech-Expression and the "Idea of the University."
Date:April 3, 2018
Time/Location: Following the Diversity Summit in Berger Hall
Send us Your Just Talk Idea!
Ground Rules for Just Talk discussions
Listen actively -- respect others when they are talking.
Speak from your own experience instead of generalizing ("I" instead of "they," "we," and "you").
Do not be afraid to respectfully challenge one another by asking questions, but refrain from personal attacks -- focus on ideas.
Participate to the fullest of your ability -- community growth depends on the inclusion of every individual voice.
Instead of invalidating somebody else's story with your own spin on her or his experience, share your own story and experience.
The goal is not to agree -- it is to gain a deeper understanding.
Be conscious of body language and nonverbal responses -- they can be as disrespectful as words.*
Discussions of emotionally charged topics may lead you to need assistance with processing your feelings. Mental Health Services is available to help students at the UCCS Recreation and Wellness Center.
*These ground rules are based on the Guide for Setting Ground Rules for the EdChange project.