Just Talk Archive

Just Talk is the Kraemer Family Library's programming series that is designed to promote open and honest dialogue about equity, diversity, and inclusion on the UCCS campus and beyond.
Upcoming Just Talk Events
Just Talk After: Suicide Awareness with Kevin Hines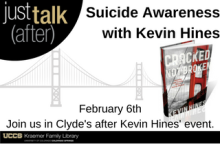 Join us at Just Talk After to discuss Kevin Hines speech on Suicide Awareness on February 6th. Immediately after the event, participants are encouraged to join us at Clyde's and have an open dialog about your response to the speech and more discussion on suicide awareness. Learn more about the event below.
Suicide Awareness with Kevin Hines
Two years after he was diagnosed with bipolar disorder (at 19 years of age), Kevin attempted to take his own life by jumping from the Golden Gate Bridge. The fall would break his body, but not his spirit. Today, Kevin dedicates his life to saving lives by spreading the message of hope and sharing his art of living mentally well. Come join us in this event to highlight the importance of suicide awareness so that we can work on this issue together as a community. This is a free event with first come first serve basis.
Just Talk: Moonlight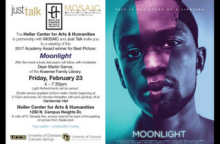 The Heller Center for Arts & Humanities in partnership with MOSAIC and Just Talk invite you to a viewing of the 2017 Academy Award winner for Best Picture: Moonlight. After the movie a lively discussion will follow about the representation of black queer masculinity in film, media, and our cultural consciousness.
Just Talk: In the Shadows Film Screening and Panel Discussion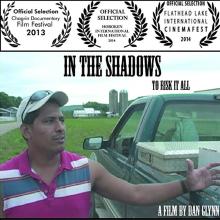 Join us for a film screening of In the Shadows: Undocumented Immigration in America, followed by a panel discussion, on February 28th. Learn about the plight of undocumented immigrants living in the shadows and join in a discussion with a special guest panel including Dr. Emily Skop, UCCS; Edwin Ruiz, Colorado Immigrant Rights Coalition; and local DREAMERS advocating for immigrant justice.
This Just Talk event is presented by the UCCS Global Intercultural Research Center and Citizens Project.
(Free event parking is available in lots 222 and 224)
Just Talk: Prison Arts: Rehabilitation and Creation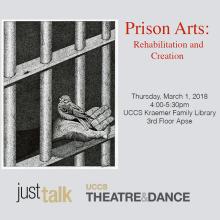 Join us for a discussion with artists, activists, and academics about the power and the use of arts in our prison systems. This Just Talk event is in conjunction with the UCCS Theatre and Dance Program's production of Our Country's Good at the Ent Center for the Arts, Osborne Theatre, which runs from February 23 - 25th, and March 1 - 4th.
Just Talk: Poverty Simulator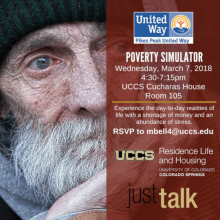 Join us on Wednesday, March 7th, to experience the day-to-day realities of life with a shortage of money and an abundance of stress. Please RSVP mbell4@uccs.edu if you plan to attend.