Just Talk Events Before 2018

Just Talk is the Kraemer Family Library's programming series that is designed to promote open and honest dialogue about equity, diversity, and inclusion on the UCCS campus and beyond.
Previous Events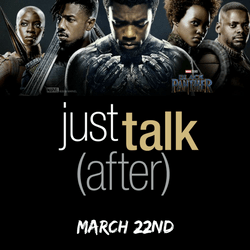 Just Talk After: Black Panther
Join us at the theater to watch Black Panther (tickets NOT included) and see what all the hype is about.  After the movie, engage in a discussion lead by Dr. Christopher Bell about the film. Please RSVP through the link below if you are interested. 
Date: Thursday, March 22nd, 2018
Time/Location: We will be sending out information about which theater and show time to those who register
RSVP: http://libcal.uccs.edu/event/4053289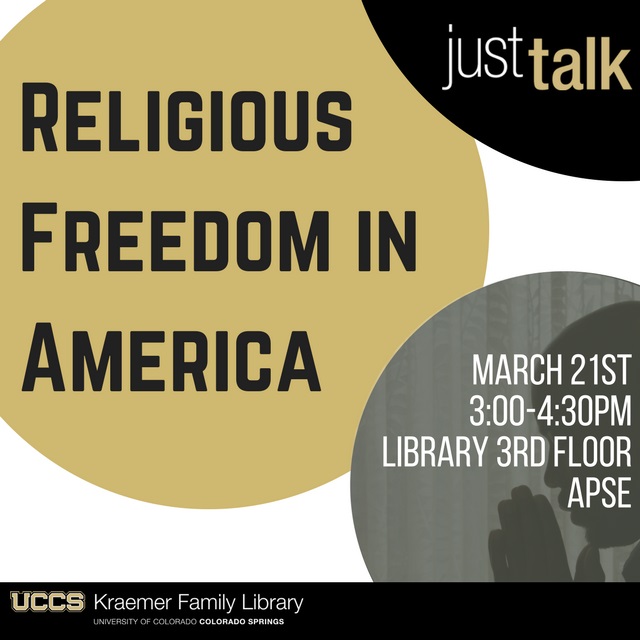 Just Talk: Religious Freedom in America
The First Amendment to the U.S. Constitution guarantees freedom of religion in the free exercise clause, and freedom from religion in the establishment clause.  Mike's book: Religious Freedom in America, 2018, ABC-CLIO, 350 pp. explores more than 200 years of U.S. history in how society grappled with those two concepts and how they influenced U.S. politics.  It details all the U.S. Supreme Court watershed cases that defined the meaning and boundaries of the religious freedom debate.
Date: Wednesday, March 21st, 2018
Time: 3:00-4:30pm
Where: Library 3rd Floor Apse
Just Talk: #MeToo
Tuesday, March 13, 2018 at 5:00-6:30pm
Library 3rd Floor Apse
Lately there have been an overwhelming number of sexual misconduct allegations in the media.  From Oprah's inspirational speech during the Grammy's to Larry Nassar's sentencing, the MeToo Movement is impossible to ignore.  How does this MeToo Movement help us to navigate campus sexual assault in this time of uncertainty?  Is #MeToo enough to change our culture?  Is it a passing trend or is it here to stay?  Join Respect on Campus and the Department of Communication for a conversation about the #MeToo Movement.
    Just Talk: Poverty Simulator
    Wednesday, March 7th, 2018 at 4:30-7:15pm
    Cucharas House Room 105
    Experience the day-to-day realities of life with a shortage of money and an abundance of stress.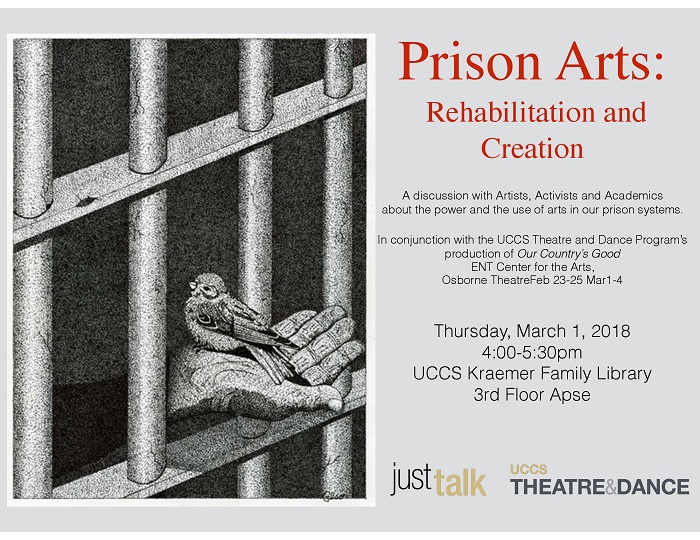 Just Talk: Prison Arts - Rehabilitation and Creation
Thursday, March 1st, 2018 at 4:00-5:30pm
Library 3rd Floor Apse
A conversation with artists, academics, and activists about the use of arts in our prison systems. In collaboration with the UCCS Theatre and Dance Program's production of Our Country's Good at the ENT Center for the Arts.
Just Talk: In the Shadows
Wednesday, February 28th, 2018 at 5:30-7:30pm
UC 302
Come learn about the plight of undocumented immigrants living in the shadows and join in a discussion with a special guest panel including Dr. Emily Skop, UCCS; Edwin Ruiz, Colorado Immigrant Rights Coalition; and local DREAMERS advocating for immigrant justice.
Just Talk: Moonlight Film Screening
Friday, February 23rd, 2018 at 4:00-7:30pm
Heller Center for Arts & Humanities
Please join us as we view the Academy Award winning film Moonlight and discuss the representation of black queer masculinity in film, media and our cultural consciousness.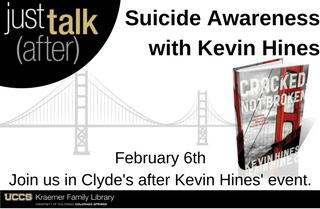 Just Talk After: Suicide Awareness with Kevin Hines
Tuesday, February 6th, 2018 at 8:00pm
Clyde's
Two years after he was diagnosed with bipolar disorder (at 19 years of age), Kevin attempted to take his own life by jumping from the Golden Gate Bridge. The fall would break his body, but not his spirit. Today, Kevin dedicates his life to saving lives by spreading the message of hope and sharing his art of living mentally well. Come join us in this event to highlight the importance of suicide awareness so that we can work on this issue together as a community. This is a free event with first come first serve basis.
Just Talk: The Voiceless
Sunday, December 3rd, 2017 at 1:00pm
UC 124
On December 3rd at 1PM, there will be a NACURH webinar in which the film "The Voiceless" will be screened followed by a conversation and question and answer with the director and producer of the film. The film is about the story of eight male sexual assault survivors and their experience now living in a world where the sexual violence against males is not discussed. This film is the first step to changing the culture and conversation around sexual violence and who it happens to. This topic is extremely prevalent in the world today, and this documentary gives voice to those who usually go unnoticed.
Just Talk is the Kraemer Family Library's programming series that is designed to promote open and honest dialogue about equity, diversity, and inclusion on the UCCS campus and beyond.
Just Talk: Sheltering the Homeless: Challenges and Opportunities
Monday, November 20th, 2017 at 3:30-4:30pm
Library 3rd Floor Apse
Join us as leaders from Blackbird Outreach, His Urban Presence, and The Coalition for Compassion and Action will be speaking on the challenges they face as they provide support to Colorado Springs' homeless community.
Homelessness in Colorado Springs is increasing annually, and the city's capacity to provide emergency shelter to this population has not grown in kind. As winter is approaching, the need for more emergency shelter for the homeless is growing. Even as our city's shelter facilities are at or near capacity, there remain hundreds of people in our community who, on a cold winter night, cannot find safe shelter. This discussion is a forum to learn about the urgency of this situation and to find ways for our community to help.
Sky Foerster, Chair, Mission Giving and Outreach Committee, First Congregational Church (Moderator)
Trig Bundgaard, Co-founder and Chair, Blackbird Outreach
Andi Van Gogh, Co-founder and Director, Blackbird Outreach
Pastor Edwin "FedEx" Aldrich, Co-founder, His Urban Presence
Just Talk: International Panel
Wednesday, November 15th, 2017 at 2:30-3:30pm
Library 3rd Floor Apse
At this event, audience members will have the opportunity to ask questions and engage with a panel of international students to discuss the challenges and opportunities for international students at UCCS and in the U.S. The focus of the panel will be on cultural differences and similarities, how their educational experiences differ, surprises that international students have experienced here, and advice that they would give to someone from their country about studying abroad. The panel will be moderated by Benek Altayli from the Wellness Center Counseling Services and will include students from Nigeria, Mexico, China, Hungary, and Saudi Arabia.
Just Talk: HomeFront Shakespeare's War
Wednesday, November 15th, 2017 at 7:00-8:30pm
Library 3rd Floor Apse
What does it mean to serve? What does it mean to lead? How do we talk about service, trauma, heroism? HomeFront Theatre Project attempts to address these questions and the many issues that face our veteran and military community through the theatre. SHAKESPEARE'S WAR features readings by excellent actors of excerpts from Shakespeare's plays that concern war, trauma, leadership, and service. Come and discuss with those who serve and have served as well as those who work in veteran's administration, trauma studies, and the arts. From this past, we will examine our present!
Just Talk: Firearm Violence in the U.S.
Monday, November 13th, 2017 at 4:00-5:30pm
Library 3rd Floor Apse
The U.S. has one of the highest rates of firearm violence in the world, and firearm violence is considered to be a public health crisis. Recent events have rekindled discussion over what should, or should not, be done to reduce the number of firearm-related injuries and deaths. Unfortunately, there are no simple answers to this complex problem. Join Erik Wallace, MD, Associate Dean for Colorado Spring Branch at the University of Colorado School of Medicine, to discuss the epidemiology of firearm violence and what, if anything, we should do differently.
Just Talk: Beginning with the End
Monday, November 13th, 2017 at 6:30-8:30pm
Library 3rd Floor Apse
Emma and Ernie ate lemon meringue pie together. Ernie taught Emma about life. And Emma helped Ernie to die. In 2002, a high school teacher in Rochester, NY, invited nine high school seniors to attend his new class. The name of the class: Hospice. A decade later, the program continues with student volunteers learning about and providing comfort care for the dying and their families. The film follows the real-life stories of four student volunteers through their senior year. In the quest to understand 'the big sleep,' they find a whole new kind of awakening.
Just Talk: Pigskin, Patriarchy, and Patriotism: Athletic Protest in a Time of Nationalism
Wednesday, November 8th, 2017 at 12:00-1:30pm
Library 3rd Floor Apse
During the 2016 NFL preseason, Colin Kaepernick sat through the national anthem to protest police violence and racial inequality. Shortly after, he modified his action to kneeling during the anthem. His simple action triggered enormous reactions. Athletes across the NFL, in other professional sports, and at all age levels joined the protest. Others derided the action as un-patriotic and disrespectful. This ongoing protest is encouraging discussions of racialized state violence at a time of strident nationalism. Jeff Montez de Oca (Sociology) and Jeff Scholes (Philosophy) will lead a discussion on the broader social, political, ethical, religious and economic dynamics of this protest and its opposition.
Just Talk: Hate Crime
Wednesday, October 25th, 2017 at 5:00-6:30pm
Library 3rd Floor Apse
Puzzles: When Hate Came to Town tells the story of a hate crime in a LGBTQ bar called Puzzles Lounge in New Bedford, MA when a teenager entered and brutally attacked its patrons. Puzzles explores the correlation between economic hardship and homophobia, intolerance, and, ultimately, violence. In the wake of the devastating attack at the LGBTQ nightclub PULSE in Orlando, Florida, killing 49 patrons, this documentary is particularly important as it asks hard questions and frames the connection between hate crimes and extremist ideologies and the increase in hate violence against LGBTQ communities.
Please join us for a screening of the documentary (length: 53 minutes) followed by a discussion facilitated by Abby Ferber (Sociology/WEST) and Martin Garnar (Library).
Questions: Contact Martin Garnar at mgarnar@uccs.edu.
Just Talk: Breast Cancer
Wednesday, October 18th, 2017 at 12:15-1:30pm
Library 3rd Floor Apse
Breast cancer is the second leading cause of cancer death among women. Estimates are that, in 2017, about 252,710 new cases of invasive breast cancer will be diagnosed in women and 2,470 in men. About 40,610 women and 460 men will die from breast cancer. At this time, there are more than 3.1 million breast cancer survivors in the United States (American Cancer Society, 2017).
Come talk about breast cancer. Come ask questions and share experiences with a local breast cancer surgeon, Dr. Toni Green-Cheatwood, Southern Colorado Breast Care Specialists; Director Breast Oncology; Medical Director, Colorado Springs specialty practices; Vice President Medical Affairs, St. Francis. Moderated by Professor Mary Ann Cutter, Department of Philosophy, UCCS, author of Thinking through Breast Cancer: A Philosophical Exploration of Diagnosis, Treatment, and Survival (Oxford University Press, 2018).
Questions: Contact Martin Garnar at mgarnar@uccs.edu.
Just Talk: Engaging with the Trolls
Wednesday, October 11th, 2017 at 4:00-5:30pm
Library 3rd Floor Apse
Earlier this semester, a provocative poster about veterans on the UCCS campus caused an uproar, and the university community responded with official statements and a campus forum clearly stating that veterans are an important part of our community. The group behind the poster created another flyer targeting the LGBTQ community, but this flyer didn't get the same attention. Is it better to ignore actions that are designed to provoke, or is it important to respond to every incident that may affect part of the UCCS community? Join the PRIDE committee for a conversation about the pros and cons of engaging with the trolls.
Questions: Contact Martin Garnar at mgarnar@uccs.edu.
Just Talk: The '92 LA Riots
Thursday, October 12th, 2017 at 7:00-8:30pm
Library 3rd Floor Apse
25 years ago, the acquittal of the Los Angeles Police Department officers on charges of excessive force in the arrest and beating of Rodney King sparked six days of protests and riots. Join us for a discussion with Barbara Headle (History) as she shares her firsthand account of the riots and a conversation about what lessons we might learn from that time. This program is part of the 2017 All Pikes Peak Reads @ UCCS project, focused on Anna Deavere Smith's Twilight: Los Angeles, 1992 as the chosen book for academic readers. For more information on APPR@UCCS, including a creative contest for students, please visit the UCCS Humanities page.
Questions: Contact Martin Garnar at mgarnar@uccs.edu.
Just Talk: White Supremacy and Free Speech
Wednesday, October 4th, 2017 at 11:30am-1:30pm
Library 3rd Floor Apse
The recent events in Charlottesville represent how the white supremacist movement is changing, as are their tactics. In the wake of Charlottesville, the limits of free speech are being questioned. Does hate speech ever cross the line into unprotected speech? What's the difference between a protest and a provocation? Should groups promoting hatred and racism be allowed to use public facilities? Please join Abby Ferber (Sociology/WEST) and Martin Garnar (Library) for a dialogue about these issues and how our campus might respond.
Questions: Contact Martin Garnar at mgarnar@uccs.edu.
Just Talk: Putting Diversity into Practice
Thursday, September 28th, 2017 at 4:30-6:00pm
Library 3rd Floor Apse
UCCS has made strides to provide opportunities for dialogue around topics of diversity and inclusion. Our hope is that, by helping students become comfortable engaging with these topics, we can positively change the landscape of UCCS over time. If we are to create an inclusive campus where all students feel safe, we must work to ensure that our student body has the tools to engage in open and respectful dialogue about diversity. In addition, we must provide students with opportunities in the classroom to gain an understanding of how difference (economic, cultural, religious, sexual, gender) plays a part in the lives of those around them.
Join us to learn about resources now available to you that have been recently developed by the Faculty Minority Affairs Committee which are meant to help faculty introduce students to these concepts of diversity and inclusiveness.
Questions? Contact Carlos Duarte at cduarte@uccs.edu.
Just Talk: White Nationalism
Monday, July 24th, 2017 at 12:00-1:00pm
EPC 304c (Library Conference Room)
According to the Southern Poverty Law Center, the number of hate groups in the United States continued to grow in 2016, with many of them related to white nationalism. This includes an increased presence on college campuses, with some groups reaching out to college students to grow their membership. Join us for a brown-bag discussion of how colleges and universities are responding to this trend, and help us plan a program on this topic for later in the 2017-2018 academic year.
Read more from the SPLC's annual report on extremism: //www.splcenter.org/fighting-hate/intelligence-report/2017/year-hate-and-extremism


Just Talk: Suicide Rates
Thursday, June 29th, 2017 at 12:00-1:00p.m.
EPC 304c (Library Conference Room)
El Paso County has one of the highest suicide rates in Colorado, and suicide rates for teen Latinx and LGBTQ populations across the country are also higher when compared to the general population. Join us for a brown-bag discussion of this phenomenon followed by a planning session for a program on this topic during the fall semester. You may wish to read this Newsweek article (http://www.newsweek.com/2016/10/28/teen-suicide-contagious-colorado-springs-511365.html) to prepare for the conversation.
Just Talk: Inspiration Porn (and Summer Planning)
Tuesday, May 30th, 2017 at 12:00-1:00 p.m.
EPC 304c (Library Conference Room)
Inspiration porn is the calling of people with disabilities inspirational solely or in part on the basis of their disability. The term was coined in 2012 by disability rights activist Stella Young. Join us for a viewing and discussion of Stella's TED talk on the subject, and stay to help us plan Just Talk events for the summer. Please feel free to bring your lunch to the meeting.
Just Talk After: The Unity Project
April 27th, 2017 at 5:00pm
Library 2nd floor apse
The Unity Project is an interactive art experience that celebrates individual diversity, while highlighting our interconnectedness as a campus community. As each participant has the opportunity to celebrate their diversity and individuality, the strands build and connect to produce an impactful visual art piece that highlights not only our individuality, but also the many intersections of our community. The Unity Project celebrates diversity and difference, but also the idea that those differences mesh to create the fabric of campus. Join us after the completion of the Unity Project for a discussion of its symbolism and how we can continue to build unity across campus and with the community.
Just Talk Poetry: National Poetry Month Celebration
Thursday, April 20th, 2017 at 7:00 - 8:30 p.m.
Library 3rd floor apse
In honor of National Poetry Month, the Kraemer Family Library and the Free Expression Poetry Club invite you to an evening of poetry, including an open mic segment for you to share your favorite poems. Light refreshments will be served.
People on the Move: Refugee Journeys in Global Context
April 11th, 2017
Library 3rd floor apse
10am - Noon:

Refugees Education Workshop with Colorado Refugee Services

3pm - 5pm:

Film showing of

Amreeka

host by Project Nur (pizza will be served)

5pm - 5:30pm:

Just Talk/Just Don't Talk Reflection with Dr. Sentwali 
A multifaceted event featuring a workshop with Colorado Refugee Services, screening of the 2009 film Amreeka, and time to discuss in a follow up Just Talk/Just Don't Talk event. This is part of the much larger People on the Move series organized by the Global Intercultural Research Center (GLINT) , Kraemer Family Library, Office of Diversity and Inclusiveness, Global Intercultural Research Center, and the Center for Religious Diversity and Public Life. All of these activities are free and no registration is required. Please contact either Dr. Emily Skop (eskop@uccs.edu) or Dr. Kee Warner (kwarner@uccs.edu) for any questions.   
Poetry: Women's Poetry
Tuesday, March 21st, 2017
7:00 - 8:30pm
Library 3rd Floor Apse
In honor of Women's History Month, the Kraemer Family Library, the Free Expression Poetry Club, and the Women's and Ethnic Studies Department invite you to an evening of poetry by women, including an open mic segment for you to share your favorite poems by women. Light refreshments will be served.
Is Working in Higher Education Compatible with Family Life?
Thursday, March 23rd, 2017
Noon - 1pm
UC 303
Parenting and career advancement are often at odds in a woman's professional journey in higher education. This session, facilitated by Dr. Megan Bell, Director of Administrative Assessment, Policy & Efficiency; Dr. Mandy Hansen, Director of the Global Engagement Office; and Dr. Patty Witkowsky, Assistant Professor in the College of Education, will provide a platform to discuss such challenges, strategize, and brainstorm ways in which our community of education can support working professional women and mothers.
Civic Power: Democracy in Action
Thursday, March 2nd, 2017
Outspoken advocate and internationally-recognized former elected official Dominic Frongillo will share his perspective as the youngest-ever councilmember in Caroline, NY, and delegate to UN climate talks on how young people around the world are leading successful impact enterprises, grassroots movements, and innovations for sustainability and political change. He will share inspiring stories from the front lines of the fight against climate change and for a sustainable future, from the United Nations climate negotiations in South Africa to rooftop solar innovations in California to winning a ban on fracking in New York. Participants will learn how to get off the ground directly after college to make a powerful impact for what truly matters.
Adding Context to the Dakota Access Pipeline (DAPL)-Standing Rock Dispute
Tuesday, February 21st, 2017
The lack of depth in the media coverage of the Dakota Access Pipeline (DAPL) and the Standing Rock Water Protectors has been a problem since the beginning. Depending largely on the political affiliations of the author, the story told is of an indigenous group either standing up to corporate interests or  getting in the way of economic progress. Meanwhile, the historic, legal, and moral implications of the pipeline dispute itself have been largely ignored. This panel discussion will bring together indigenous and archaeologist perspectives try to add context to the media coverage through presentations on:
the historical context of Standing Rock Sioux's rights to the land and rivers
cultural heritage preservation laws
how the tribal consultation process is supposed to work and how it went with DAPL
Colorado perspectives on heritage preservation and tribal consultation
and what life is really like at the Standing Rock protest camp
Prologue Town Hall on Race
Monday, February 20th, 2017
Directly after the Prologue
Clyde's in the University Center
Attending the UCCS Prologue Town Hall on Race?  Meet up with other attendees to keep the conversation going directly after the event.  We will convene at Clyde's for drinks and discussion.

Please note: You must register for the Prologue Town hall. Registration is not necessary for the Just Talk After portion.  
 
Assistive Technology
February 14th, 2017
Attending the Grand Opening of the Assistive Technology Lab in EPC 238? Come upstairs afterwards to the library's conference room (EPC 304c) for an informal conversation on assistive technology and its potential impact on our campus.
 
Hidden Figures
 February 9th, 2017
Please join us for a discussion of the book behind the new film Hidden Figures, which tells the story of African American female mathematicians working at NASA during the start of the space era. The discussion will take place in the main house of the Heller Center for the Arts and Humanities.
 
Queer Voices Speak Out
January 31st, 2017
What does it mean to be LGBTQ+ in 2017?  Join Transmission, Spectrum, and FREEX as they share poetry from a queer perspective, with special guests from Inside/Out Youth Services.  There will be an open mic segment for attendees who want to speak on the same theme. Light refreshments will be served.
 
Just Talk After: The Fever
December 1st, 2016
THE FEVER is an amalgam of music, theatre and choreography examining how we assemble, organize and care for our bodies and the bodies around us. Is it possible to feel the pain of others? How have we become who we are? What will become of us, and will we be all right? The thrilling performance inspired by Stravinsky's Rite of Spring invites the audience to co-create of a work of art that will change from night to night. Just Talk After will convene after the performance to discuss the event.
 
The Ethics of Protest in Sport
November 17th, 2016
Protest in sport raises an awareness and recognition of the ethical implications of racism within our society and organizations. Dr David J. Leonard will lead a discussion of San Francisco 49ers Quarterback Colin Kaepernick's actions within the history of black athletic revolt. At all levels of sport in the U.S., these protests challenge the commodification of black athletes; they express love and an ethical challenge to a culture that seems to only value black life when it is entertaining. Students, educators, and the community will be challenged to consider the implications of a sporting culture lacking in respect, trust, and fairness.
Post-Election Community Open Forum
November 17th, 2016
Join the Library's Just Talk programming series and the Moving Forward Through Violent Times for an opportunity to reflect on the national elections and to foster dialogue. The purpose is to create a space for community members to share thoughts and feelings about the elections, recognize the need the heal on all sides, and to look at ways to move forward together as a community. 
International Student and Faculty Panel
November 16th, 2016
A panel with international students and faculty will discuss the challenges and opportunities they have at UCCS, including topics like cultural adaptation, academic adaptation, and ideas for working with international learners.
Diversity of Thought Panel and Discussion
November 3rd, 2016
In the spirit of the election season, please join us for a Diversity of Political Thought Panel and Discussion. Come hear the perspectives of a panel of community leaders representing diverse political views and engage in dialogue around the current political climate as well as discuss the role of the public University in addressing political/social issues.
Cyber-Seniors
September 28th, 2016
In a constantly changing world it is important to recognize the importance that generations of people have on each other and to set aside time to focus on intentionally connecting generations. September is Intergeneration Month and to join in the conversation JustTalk will host a screening of the documentary CyberSeniors and a discussion will be led afterwards by Martin Garnar and Intergeneration Librarian, Carlos Duarte.
Disgraced: A Play by Ayad Akhtar
September 20th, 2016
In this "breathtaking, raw and blistering" Pulitzer Prize-winning play, Amir has built the perfect life. But as a high-profile case and his wife's art show reveal how little his culture is understood, their misconceptions become too much to bear. Please join us for this discussion of the play. Students are eligible to be entered in a lottery to receive a free copy of the play.
Fitness from an International Perspective
August 9th, 2016
Colorado is graced with mountains, desert, sunshine, and fit people.   The state is home to two of the most fitness-friendly cities for 2016 according to the Huffington Post and Colorado Springs is home to the Olympic Training Center and the United States Olympic Committee. Join Randa Osman, 2016 graduate from the MSc Health Promotion program at UCCS on Tuesday, August 9th from noon to 1 p.m. in EPC 304C (the library's conference room) for a brown bag presentation on physical activity engagement of international students.  Her study and findings will illuminate physical fitness among a sub-population of international students.
The Colorado Springs Sit-Lie Ordinance
July 27th, 2016
In late 2015,  the City of Colorado Springs debated the need for a Sit-Lie Ordinance, prohibiting excessive loitering in the downtown business district. The issue was hotly contested and in early 2016 City Council passed the Pedestrian Access Act. Join our discussion about the ordinance and the history behind the decision with City Council member Tom Strand and a member of the Human Relations Commission.

Photo Credit: Jerilee Bennet, Colorado Springs Gazette
The State of Race and Gender Representation in the Superhero Genre
June 14th, 2016
With the summer movie season upon us, the theaters are going to be dominated by superhero films. As a result, conversations are already beginning surrounding issues of race and gender in the superhero genre. For example, this billboard for X-Men: Apocalypse has sparked thousands of trending conversations on Facebook. What is the state of race and gender representation in the superhero genre - both in comics and in film?
Transgender Issues
May 31st, 2016
A brownbag discussion of transgender issues on campus.
Between the World and Me
April 28th, 2016
The inaugural event in the Just Talk series was a facilitated discussion of Between the World and Me by Ta-Nehisi Coates.