Just Talk: Defending the Constitution
Thu, 10/25/2018
04:30 PM - 06:00 PM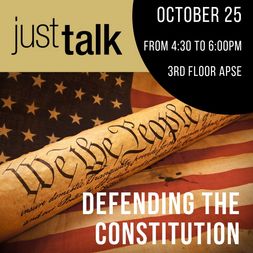 Join Dr. Kathleen Hynes for the discussion "Defending the Constitution" on Thursday, October 25, from 4:30 to 6:00 p.m. in the 3rd Floor Library Apse.
Dr. Hynes is a highly sought-after volunteer speaker for the American Civil Liberties Union of Colorado. For over a decade, she has worked throughout Colorado on behalf of the ACLU on a variety of issues, including: Juvenile Justice, Privacy Rights, Immigrant Rights, Prisoners' Rights, Government Transparency, School Vouchers, Free Speech, Voting Rights, Ending the Death Penalty, and Knowing Your Rights When Encountering Law Enforcement.
In addition to speaking, Dr. Hynes has written and given testimony on matters before the Colorado legislature because there is no better way to ensure social justice than by protecting, defending and extending the civil rights and civil liberties of all people.
Dr. Hynes held a faculty appointment at the University of Colorado School of Medicine for several years before starting her own research business producing customized research and assistance in business development for almost three decades.
Just Talk is the Kraemer Family Library's programming series that is designed to promote open and honest dialogue about equity, diversity, and inclusion on the UCCS campus and beyond.