Just Talk: Police Brutality
Tue, 12/04/2018
02:00 PM - 03:30 PM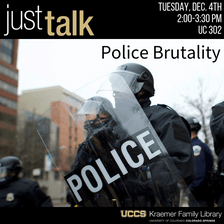 Every week there seems to be at least one news story about another police interaction gone wrong. Regardless of whether it's an uptick in violence or a greater awareness of the topic, the end result is that some communities don't feel safe with the police. Please join us for this conversation with a member of the UCCS Police Department to explore the difficult topic of police brutality.
When: Tuesday, December 4
Time: 2:00 - 3:30 p.m.
Where: UC 302
Just Talk is the Kraemer Family Library's programming series that is designed to promote open and honest dialogue about equity, diversity, and inclusion on the UCCS campus and beyond.