Just Talk: Restorative Dialogue: Conversational Skills to Heal Conflict and Harm
Thu, 02/07/2019
04:30 PM - 06:00 PM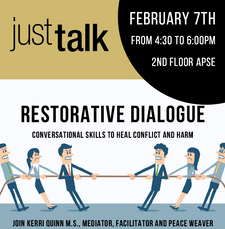 The presentation is designed to help you better understand the nature of the conflicts that arise on campus and in everyday life and give you the skills and confidence to deal with them in an effective and positive way. The focus is on understanding the underlying dynamics of conflict and language tools to pivot a conflict conversation to focus on the needs of the parties, understand the impact of conflict, and ultimately create lasting resolution.
Kerri Quinn M.S. has been a mediator, facilitator and peace weaver for 15 years. Her trauma responsive restorative communication work has been used throughout the country in schools, correctional facilities, families for profit and nonprofit organizations. She is currently an adjunct at UCCS teaching restorative dialogue, and at Creighton Law School teaching mediation, facilitation, organizational conflict systems design. Her specialty is the language and dynamics of conflict.
Just Talk is the Kraemer Family Library's programming series that is designed to promote open and honest dialogue about equity, diversity, and inclusion on the UCCS campus and beyond.