Borrow Headphones, Phone Chargers, and More from our Circulation Desk
Borrow Headphones, Phone Chargers, and More from our Circulation Desk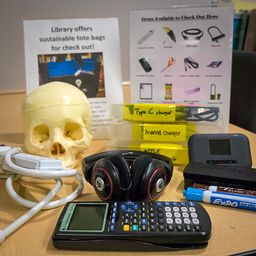 Posted: 
Did you know that you can borrow headphones, phone chargers, calculators, and even anatomical skeletons from the library's Circulation Desk?
The library offers a variety of equipment for students, faculty, and staff to borrow, including:
Headphones
Phone Chargers for Apple and Android devices
Wireless hotspots
Dry erase markers
Anatomical skeletons
Surge protectors
Calculators
Umbrellas
Scissors
Rulers
Bike locks
Computer cables
And more
Check out times vary, so ask at the Circulation Desk regarding equipment availability and loan periods. You can drop by in person, or call 719-255-3296 or email circdesk@uccs.edu.