Just Talk After: Suicide Awareness with Kevin Hines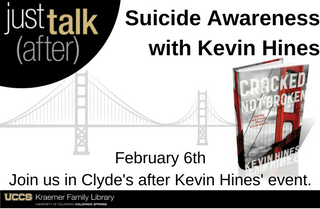 Join us at Just Talk After to discuss Kevin Hines speech on Suicide Awareness on February 6th. Immediately after the event, participants are encouraged to join us at Clyde's and have an open dialog about your response to the speech and more discussion on suicide awareness. Learn more about the event below.
Suicide Awareness with Kevin Hines
Two years after he was diagnosed with bipolar disorder (at 19 years of age), Kevin attempted to take his own life by jumping from the Golden Gate Bridge. The fall would break his body, but not his spirit. Today, Kevin dedicates his life to saving lives by spreading the message of hope and sharing his art of living mentally well. Come join us in this event to highlight the importance of suicide awareness so that we can work on this issue together as a community. This is a free event with first come first serve basis.