Meghan Tifft Book Discussion
Meghan Tifft Book Discussion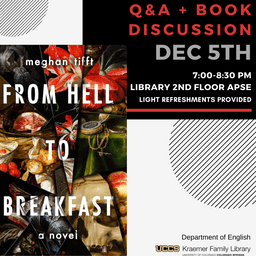 Posted: 
December 5  | 7:00-8:30pm | Library 2nd Floor Apse
The Kraemer Family Library, the Department of English, and the First-Year Rhetoric and Writing Program are excited to offer UCCS the opportunity to win a free copy of From Hell to Breakfast by UCCS faculty Meghan Tifft.
Meghan Tifft is the author of The Long Fire, a semifinalist for the VCU Cabell First Novelist Award.  Her essays and stories have appeared in The Atlantic,Hayden's Ferry Review, and Fourteen Hills, among others. She received an MFA from University of Arizona and has taught at the University of Arizona and the University of Massachusetts.  She currently teaches writing at the University of Colorado Colorado Springs.

About From Hell to Breakfast:

Lucinda's boyfriend Dracula claims to be the Dracula―he sleeps in a coffin, hunts pigeons for blood, and only goes out at night. But is he really? Unsettlingly, there has been a spate of recent disappearances and Dracula may be connected. Lucinda doesn't know for sure or which is more dangerous: dating an immortal vampire or a UPS driver with a night shift who thinks he's one?

While Dracula sleeps, Lucinda works at a smoothie shop where her boss is a creep, and their neighbor is always either belting out Whitney Houston or yelling in Russian through the walls. Lucinda focuses on the play she's written that's being produced by the community theatre and a pair of sibling actors, Rory and Lauren, she's met there.

Rory is clearly infatuated with Lucinda, and while she is out all day Dracula ruminates on next steps. Their other neighbor is a bicycle cop who clearly has it out for him, the landlord claims to have never seen Luc inda, and Lucinda's brother Warren is constantly asking for Dracula's help killing birds for his art. As the play's premiere draws nearer, sinister forces are at work, though it may just be the fault of amateur actors. Meghan Tifft creates an alternate small town America, one brimming with strange delights and dark curiosities, where you can be whoever you want, though not really, and somebody's dinner is always another person's breakfast.