Our Fitness Study Stations have Moved!
Our Fitness Study Stations have Moved!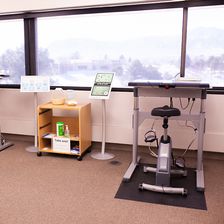 Posted: 
Looking for our fitness study stations? They've moved!
We've relocated our popular treadmill and exercise bike over by the Periodicals section of the library, near the Mac computers and book scanner. The new location offers terrific views of Pikes Peak, a little more privacy, and, best of all, shades you can draw when the afternoon sun is too hot.
If you haven't used our fitness study stations before, be sure to check them out at the new location. The treadmill and bike each feature a built-in desk and a power strip for a laptop or cellphone. The fitness study stations were purchased with the support of the Green Action Fund and are intended to promote health and walking and cycling on campus.